SPALETTI TO BE INTER MILAN NEW MANAGER
Serie A giant Inter Milan are set to have a new manager in LucioSpaletti, according to reports from Italy. Spaletti is preparing to fly to China to meet with the club's new owners.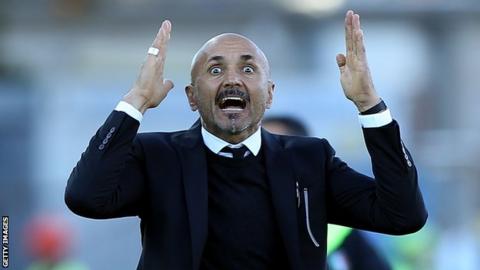 The tactician has been impressive at AS Roma. He led them to a second place finish this term behind Juventus.
Roma wanted to retain him but he opted not to renew his contract. Since refusing to renew his deal, he was expected to take over the job at Inter. With Inter, he would miss continental action as the club finished in seventh place this term.
Three games before the end of the season, Inter sacked Stefano Pioli after a very poor run in charge of the club. Roberto Mancini had resigned days before the league resumed last season so Pioli seemed to be a quick fix as Frank de Boer was fired barely three months in.
Inter finished the season with a caretaker manager Stefano Vecchi but Spaletti would be the substantive manager when the season restarts. He told reporters in Milan that the deal was done and that they had shaken hands.

"I'm one of those old fashioned types who does things with a shake of the hand. I'm happy to be the new coach of Inter," the manager said.
He is expected to have a huge war chest to rebuild the team. Suning Commerce Group acquired majority stake in the company last year. They are expected to supply him with enough resources to help the club regain its top status in Europe.
Elsewhere, former Inter coach Stefano Piolihas agreed to manage Fiorentina. The 51-year old would replace Paulo Soussa. Fiorentina also had a poor run, finishing just behind Inter. Fiorentina confirmed the deal with Pioli, adding that it was for two years with the option to continue in the third season.